Hey Y'all,
Since this always the ever popular question I just wanted to write a bit about what I use.
Right off the bat I'll tell you that I'm a Canon girl. Can't say why other than that's what I started with and I love it. I'm not a hater, you Nikon lovers are awesome, I've just never used one so I can't comment. With my Canon everything has always been set up intuitive to how I would use it, just feels right.
Do I get gear envy?? You bet I do, we all do, but unless I win the lottery there will always be some piece of equipment that makes me drool and pine for. But in reality I love what I'm using and I'm comfortable with it.
Now a HUGE thank you needs to go out to my very supportive, sweet and sexy better half, Kevin. He bought me my Rebel XT probably close to 10 years ago now, and this year, for my birthday, upgraded me to my 60D YAY!!! He's also taken advantage of the last couple of holidays to start upgrading my lenses. Yes, he loves me, yes, he is awesome, and I hope we grow old to be Lee and Morty Kaufman who at 90 years old are now finding stardom in Swiffer commercials. http://www.today.com/klgandhoda/90-year-old-couple-swiffer-ad-stardom-unexpected-8C11073579
So now you know what camera bodies I'm using (the rebel remains my backup) what about lenses?
Canon EF 28-135 3.5-5.6 - This is my go-to lens most of my landscapes and multi-person portraits have been taken with this lens
Canon 10-22 3.5-4.5 - great wide angle for vast scenics.. also good for capturing the whole room at an event.
Canon Prime 50mm 1.4 - Headshots and babies are taken with my beloved 50mm - my only fast glass, for now and gives great bokeh.
My wishlist:
24-70 2.8
35mm 1.4
85mm 1.2
70-200 2.8 IS - I rent this lens when I do events.
Lighting: I've still got so much to learn about lighting...
Flash - Canon 430 EX II
Strobe - Hubby gifted me, for Mother's day, the following Studio Set-Up which I have to admit I have't yet had too much opportunity to practice with.
Think Tank CityWalker 20 - http://www.thinktankphoto.com/products/citywalker-20-blue.aspx
Great for events, holds everything you need, including tablet or iPad, without getting too bulky.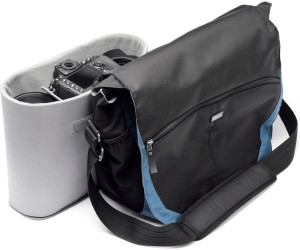 Lowepro Versapack 200 Backpack - http://www.lowepro.com/versapack
This backpack is great for hiking. Plenty of room for all the gear I need to take with me, room in the top section for snacks, water bottle on the side, rain cover and holds my tripod!
Other stuff...
I love, love, love this tripod.. I love the pistol grip and easy to adjust head.
Blackrapid.com Elle Strap for Women - http://www.blackrapid.com/products/women
Great for when my camera is off the tripod. Very comfortable, keeps your camera at your hip
32" 5-in-1 Promaster Reflector - http://www.promaster.com/products.asp?product=6535
I love that the cover/case has an 18% grey panel on one side.
Well that's it for now... Please tell me what is some of your favorite gear and what works well for you!